The type of metal that you choose for your engagement ring can be a major deal breaker. That's why it's so important that you understand your metal band options when shopping for your engagement ring.

Today, we want to share some insider knowledge + tips about the engagement and wedding ring band metals we offer at Jensen Jewelers. It is our sincere hope that by exploring your options, you'll know exactly what type of band is perfect for you. Let's find a ring you will for a lifetime.
Know Your Options + Trust Your Gut
As you begin to shop, pay attention to the metal that initially catches your eye. From our years of experience, we have learned that most people are instantly drawn to a certain metal. Trust your gut instincts. You'll be looking at this band for a long time, so it needs to be a personal decision.
Metals often look different on your hand than on display. Skin tones and pigments vary from person to person, so it's a good idea to try each metal on before deciding to make your decision. At Jensen, we offer several different types of metals, like:
Platinum
Yellow gold
White gold
Rose gold
Engagement and Wedding Band Metal Guide
Below we have posted four types of metals. Please use this information as a short guide during your online shopping experience. To view our collection of rings online, just click here.
Platinum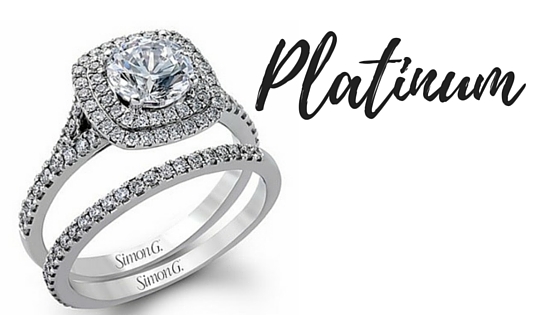 Platinum is considered the rarest of all the metals in jewelry design. Naturally, platinum is white metal, so its bright luster tends to bring out the clarity of diamonds. Additionally, platinum is a very hardy metal, which makes it a safe setting for years to come. Women tend to love how indestructible it is, while still looking incredibly feminine and attractive. Recognized as a hypoallergenic metal, platinum tends to be a good option for people with sensitive skin or allergies.
Yellow Gold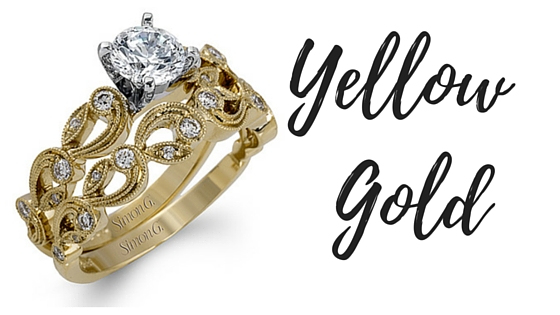 For years, yellow gold ruled the engagement ring market. And recently, we have seen a higher demand return for this classic metal. This traditional metal is now being paired with more modern settings, a trend that we can't get enough of lately! Yellow gold tends to have an untarnished romantic appeal with a symbolic history of eternal love.
Yellow gold also looks very different on your hand than in a box, so make sure that you try a yellow gold ring on before ruling it out automatically. One of our customers said this about her custom gold ring from Jensen Jewelers,
"I'm always surprised at how many compliments I get on my ring. Most of my friends have platinum or white gold rings. And while I always knew I wanted something different, I didn't realize how much I would love the yellow gold band my husband bought for me. People from all walks of life are always commenting on how unique and fabulous my ring looks. And years later, every time I put it on, I still absolutely love it! Thanks, Jensen for helping me find my dream ring."
-Danielle M.
Rose Gold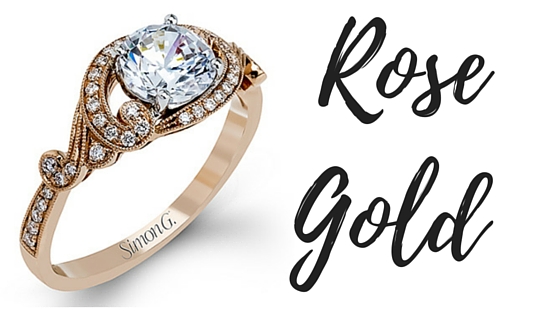 Rose gold is a newer contender on the metal market. With its copper and pink tones, it tends to give a more non-traditional look to engagement and wedding bands. While it's not "traditional" in any sense, it remains a hardy choice for wedding bands, withstanding all the elements. We love the way that rose gold is changing the traditional idea of what "gold" looks like. If you haven't tried on a rose gold band, we recommend you do (even if it's just for fun!)
White Gold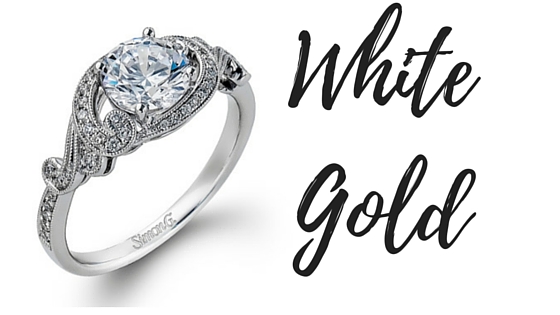 White gold is well-known for enhancing diamonds. Its brilliance encourages diamonds to shimmer in any setting. Many women appreciate the deep history of gold with the more modern silver tones, making white gold a popular choice. White gold is also a more affordable option, giving women the look they want at a lower price point than platinum.
---
Buying an engagement ring is an investment in your future. And we want to make sure that you are happy for a lifetime. Your ring symbolizes your love, we truly believe that. And you deserve to love your ring. If you're curious about which type of metal would look best on your hand, stop in today. We'd love for you to try them on.
---
Talk With An Engagement Ring Specialist
---