Men's wedding band shopping tends to be a majorly overlooked aspect of wedding planning.
At Jensen, however, men's wedding band shopping is actually one of our favorite traditions. We think it's so exciting to see the roles reversed as men shop for their rings. We love having couples come in and give HIM the attention. It's always guaranteed to be a fun time in our shop.
Today we're going to share with you the biggest secret we've learned about men after 20 years of selling engagement rings.
But before we do that, we want to share the women's perspective of men's ring shopping. Most women are completely surprised when they begin ring shopping for their fiance. There are so many more styles and finishes than they ever imagined! So, whether you're looking to surprise him with a wedding band or you're picking it out together, be aware of your wedding band options before you come in. Below we are posting the Ultimate Guide to Wedding Ring Shopping FOR HIM. We hope that it helps to explain all of the great wedding band choices men have to choose from.
But, first, here's the biggest secret we have learned about men when it comes to choosing their wedding band. Are you ready?
….THEY CARE AND THEY HAVE OPINIONS!
Dan Jensen, the owner of Jensen Jeweler, has this advice to share about shopping for men's wedding rings:
"The biggest tip I have for women who come in to shop for men's wedding bands is to get their partner involved! Be sure to ask them what type of metal and finishes they like. The more involved in the process men are, the better.
Below we're posting a short men's wedding band guide. We hope that it helps you kickstart your shopping experience for him.
How to Pick Out the Perfect Wedding Band for HIM
We're trying to keep this process as simple as we possibly can. In our experience, there are really only two steps in choosing a men's wedding band. Pretty easy, right? Let's explore those two simple steps now.
Step One: Choose a Metal
The first thing you want to do is choose which type of metal he likes. At Jensen, we offer men the unique opportunity to come in and try on every type of metal we offer. Metals often look different on your hand than on the shelf, so it's important that men try them on. Bring your man in and give him a hands-on opportunity to explore his options.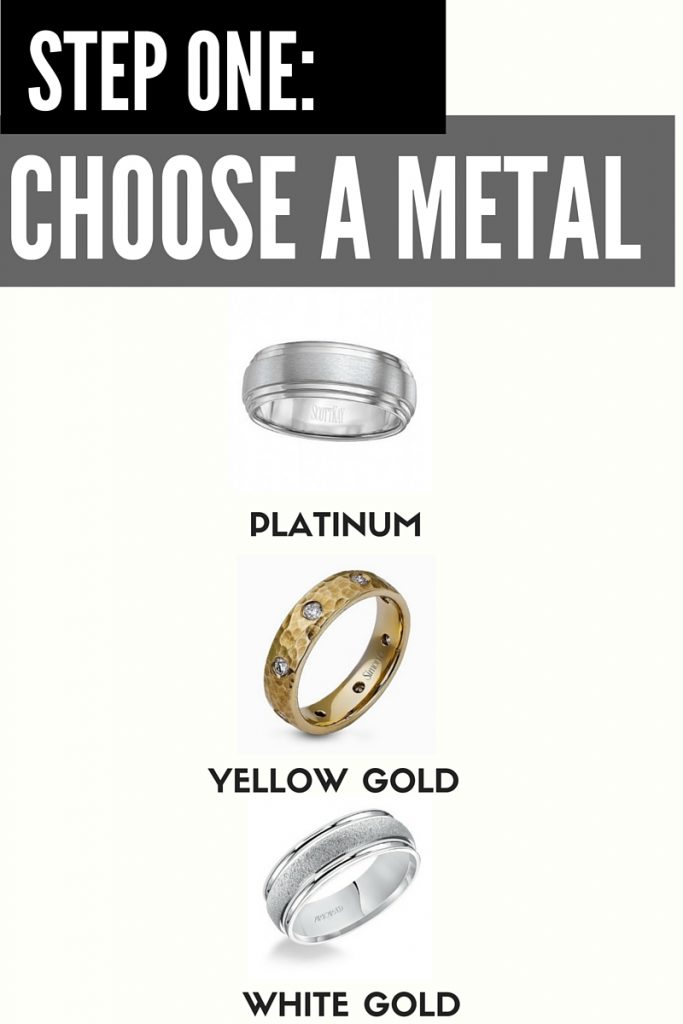 Step Two: Choose a Finish
There are several types of finishes option for him. Use the pictures below to figure out which finish options are top contenders for him.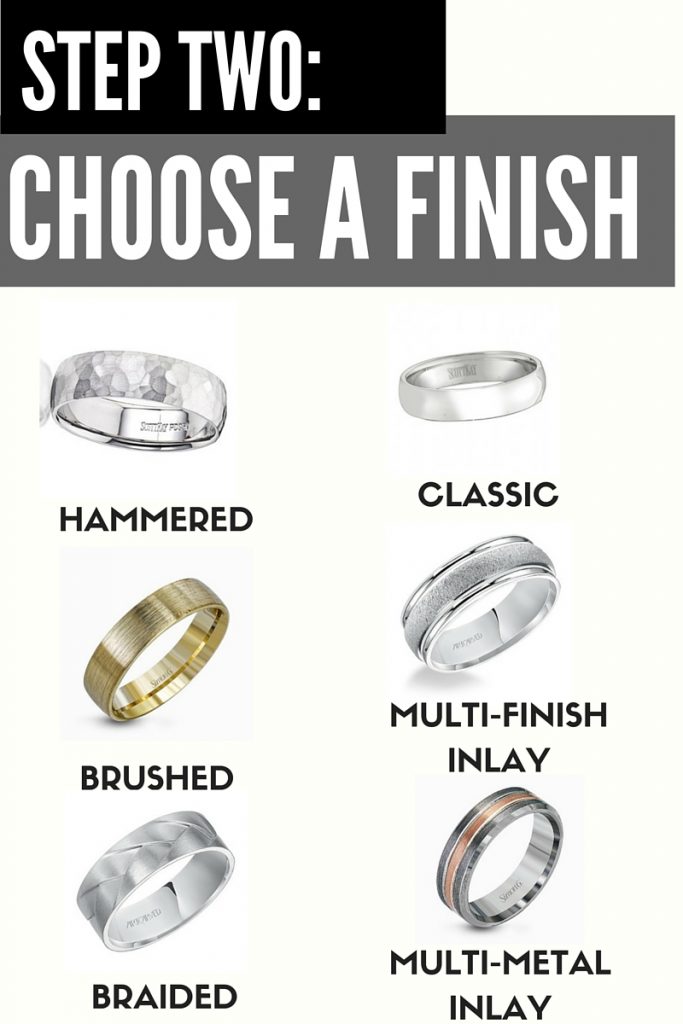 ---
If you're ready to start engagement ring shopping for him, we hope that you will head on in to Jensen. We can't wait to help you find the perfect ring for him! And for more photo options be sure to check out our online engagement ring photo booth here.
---
Talk With An Engagement Ring Specialist
---