We're so excited to be featuring another engagement story on the Jensen Jeweler blog this month! We love hearing the original ways that guys around West Michigan are proposing to their loved ones.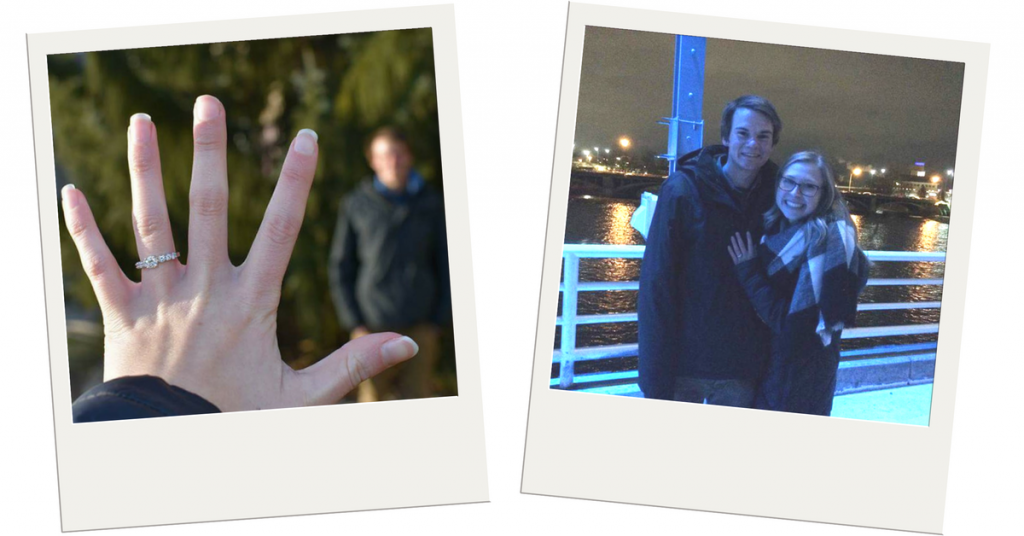 For this month's featured couple, their love story was in the cards. Mason and Anna have an engagement story like none we have ever heard before! And we must say, that working with Mason to create Anna's ring was a true pleasure.
Jensen helped me create the perfect ring for her, and we are so blessed to have had their help."
Couples like them make us love what we do even more! We hope you'll enjoy their good-natured story of trickery as much as we did.
How He Proposed
Mason and Anna's engagement story begins around Christmas Time. Without her knowing, he purchased a gift card to one of Anna's favorite Grand Rapids restaurants for $5.10 (which actually corresponded to her birthday). Instead of writing the actual price on the card, however, he wrote $10.
Then, on Christmas Eve, Mason secretly snuck the gift card into his own stocking, pretending like it was a gift from his parents.
Some weeks after Christmas, the couple went to the restaurant for a romantic dinner together. After Mason using the gift card, however, Mason pointed out that the receipt only showed that $5.10 had been taken off their bill.
Anna was confused and Mason played right along. Mason asked the waiter if they could have the gift card back in order to figure out the glitch.
Anna didn't know it then, but the waiter had handed them a gift card that would soon change her life.
After leaving the restaurant, the couple went for a romantic winter's walk on Grand Rapids iconic Blue Bridge. As they crossed the bridge, Mason brought up the topic of the gift card again. He told Anna that he wanted to look up the card's information online. He then handed Anna the gift card and a nickel over to her, asking her to scratch the code on the back of the card.
But, instead of revealing a code, she saw a message that read, "Will you marry me?" Mason then dropped to one knee and proposed to Anna with the ring of her dreams. She very happily accepted.
Congratulations Mason + Anna! We cannot wait to see photos of your wedding.
To see more of their love story, make sure you follow us on Facebook and Instagram.
---
Talk With An Engagement Ring Specialist
---