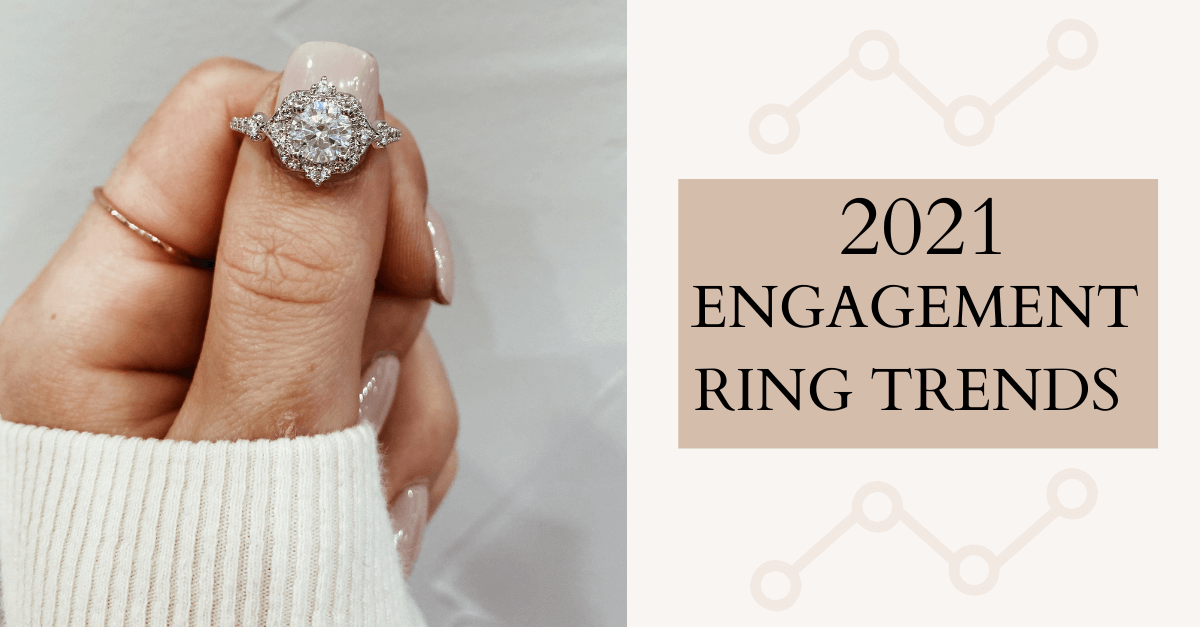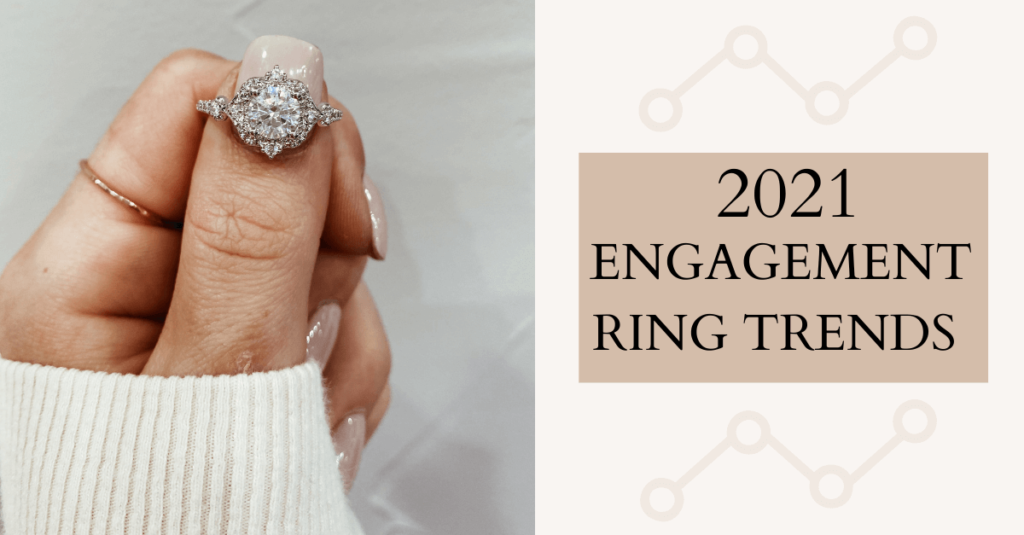 2020 is over (finally), and we're looking forward to seeing what the new year brings. At the beginning of each year, we like to give our thoughts on what engagement ring trends will be popular in the new year and beyond. Here are our predictions for 2021.
1. Round Pavé Engagement Rings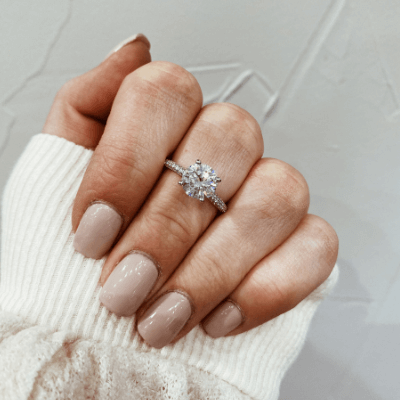 The round cut diamond is nothing new and it isn't going anywhere anytime soon. Round cut diamonds are the most popular diamond shape and for good reason. Due to their shape and cut, round diamonds help reflect more light helping maximize their sparkle and brightness.
The combination of a round diamond with a pavé setting with tiny diamonds on the band of the ring has been popular in recent years and we expect it to fully come into its own in 2021.
2. Oval Pavé Engagement Rings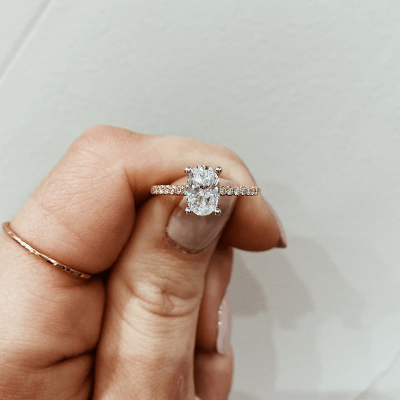 Oval cut diamonds have been extremely popular in the last several years and the trend only continues to grow. All though this shape of diamond has only been around since the 1960's it has gained popularity in recent years. Some of the factors making the oval so popular are that they tend to look larger in comparison with a round diamond, they are a unique shape and they are an affordable option.
3. Hidden Halo Engagement Rings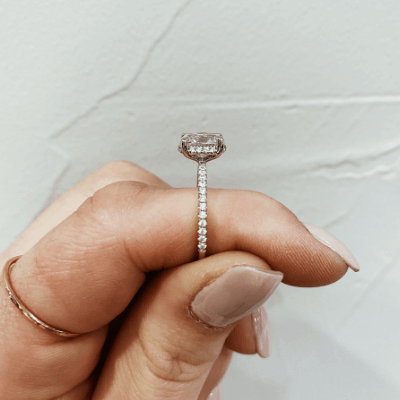 Although 2020 was a rough year for many of us. It was a great year for Hidden Halos. In 2020 this new trend started to take off and rise in popularity. A hidden halo is a setting in which a halo of diamonds rests just below the main center diamond. Since the halo of diamonds is just below the center diamond it looks incredible no matter which angle you look at it.
4. Vintage Halo Engagement Rings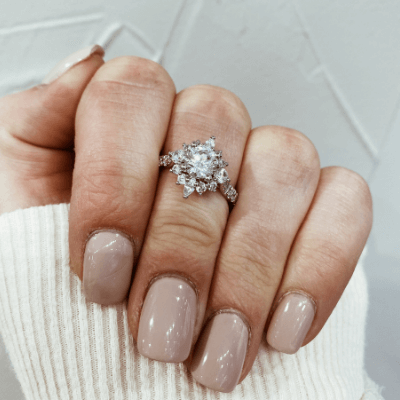 Halos have been a hugely popular engagement ring style through the 2010s, but not many know that they first became popular in the 1920s. Vintage halos are a throwback to the styles of the 1920s. Vintage halos can be inspired by Victorian, Edwardian, and Art Deco styles. No matter their inspiration, we are loving their antique and romantic style.
5. Solitaire Engagement Rings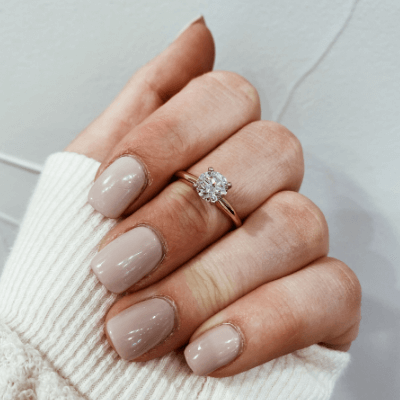 The solitaire engagement ring is probably the most iconic engagement ring. It's classic and timeless. The clean design of this ring allows your diamond to shine as the center of attention. The solitaire engagement ring is classic and elegant. Many engagement ring styles have come and gone but this style still stands the test of time.
6. Three Stone Engagement Rings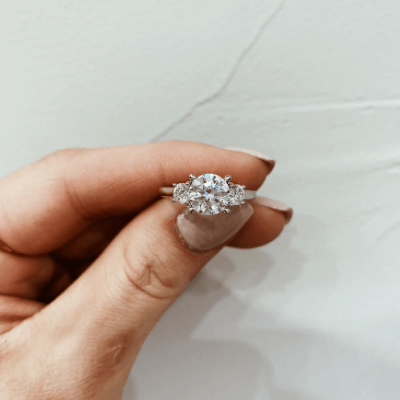 Like many of our favorite TV shows as a kid, three stone engagement rings are on a comeback. Why? One person. Meghan Markle. Ever since Meghan Markle showed off her gorgeous 3 stone engagement ring at the end of 2018 this trend has been rising rapidly.
Also known as a past, present, and future engagement ring, 3 stone engagement rings are popular because of their added sparkle from 2 additional diamonds and the 3 stones symbolism The 3 stone engagement ring can be symbolic for many different things including Past, present, and future (as mentioned), Friendship, Love, And Fidelity
and The Holy Trinity.
The 3 stone engagement ring has been popular in the past, is trending in the present and we foresee it continuing its popularity into the future.
---
Find the Perfect Engagement Ring at a Better Price
Contact Us
---