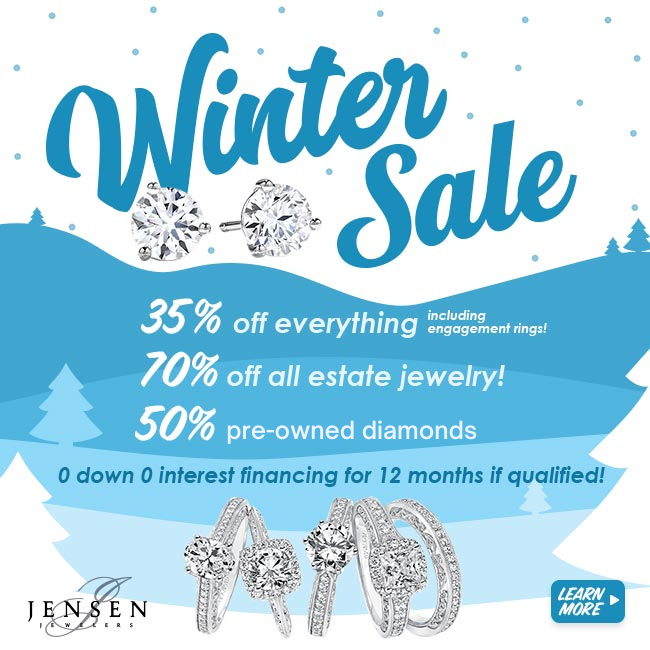 35% Off Everything (Including Engagement Rings)
70% Off All Estate Jewelry
50% Off Pre-Owned Diamonds
Winter has definitely arrived, so it's time for our "Winter Sale". Real creative, we know. 🤷‍♂️
Our Winter Sale features 35% off storewide, including engagement rings! 50% off all pre-owned diamonds. And 70% off estate jewelry.
With offers like this and our super friendly staff, why would you shop anywhere else? The best prices, best service… it's a no brainer. And we offer 0 down 0 interest financing.
Lately, a lot of people have been telling us:
"Wow, I didn't plan on you having the exact ring I wanted or making a decision this easily. You have the best selection of anywhere I've shopped"
We're the area's best source for diamonds. Whether you're looking for a natural, pre-owned, or lab-grown diamond, we have the largest selection, and the best prices!
Also, if you have any gold, diamonds, or silver to sell, get the most right next door at Jensen Estate Buyers.
---
Now Is the Perfect Time to Buy Jewelry at Our Winter Sale
Contact Us
---
"Sale for in-stock jewelry only & excludes Simon G., Gabriel & Co., LaFonn, Amen and watches."