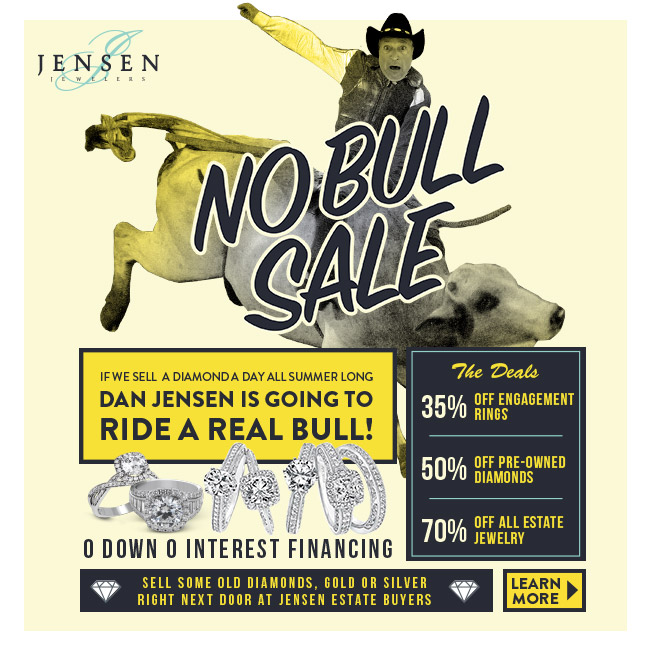 If we sell a diamond a day all summer long, Dan Jensen is going to ride a real bull.
It's called the "no bull" sale because he doesn't want to ride no bull!
If you don't you know Dan, he's a pretty big guy. Seeing him ride a bull would be hilarious. Let's make him do it!
I mean, if you're buying a diamond anyway, you might as well come to Jensen Jewelers. We have the area's best
selection of engagement rings and diamonds, whether natural, pre-owned or lab-grown.
We also have more 5-star reviews than any jeweler in Michigan!
Enjoy these summer deals:
35% Off Engagement Rings*
50% Off Pre-Owned Diamonds
70% Off All Estate Jewelry
Don't be bulled around by other stores, get treated like family, and get "no BULL".
Take advantage of our 0 down 0 interest financing.
If you can rustle up any old gold, silver, watches, coins, or diamonds, get the most at Jensen Estate Buyers.
Come to Jensen Jewelers and find the perfect engagement ring and make Dan ride a bull!
---
Find the Perfect Ring this Summer
Contact Us
---
"Sale for in-stock jewelry only & excludes Simon G, Gabriel & Co., LaFonn, Amen and watches."